Selective Mutism (SM) is a mysterious and often misunderstood diagnosis. Though the research dates back to 1877, SM remains the most misdiagnosed mistreated disorder in the United States today. It is also one of the few disorders in the Diagnostic and Statistical Manual of Mental Disorders (DSM), that can truly be cured with appropriate interventions in place.
New England Pediatric Services has teamed up on SM and is working diligently to end the silence that plagues so many.
Pediatric Speech-Language Pathologists Sarah Josef, M.S., CCC-SLP, Charlotte Ford, M.S., CCC-SLP, and Pediatric Occupational Therapist Samantha Meader, OTR/L, work together using a relationship-based approach and their respective expertise to help individuals find their voices.
For more information, please contact us.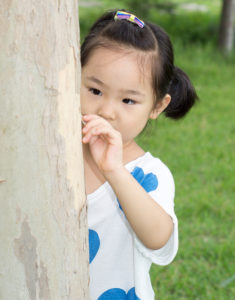 ---
Testimonial from 2016: I cannot say enough about New England Pediatric Services. In the field of selective mutism, of which all of our kids have exhibited symptoms, NEPS is an oasis in the desert of services that characterizes most of the rest of the country. We came from the West Coast about 5 years ago, where finding providers that even listed Selective mutism as an area of interest was difficult. Their advice was marginally helpful at best. In contrast, NEPS has been a wonder. They are not only experts in this field, they are skilled caregivers, compassionate partners, and staunch advocates. Their willingness to find solutions and to work with our family has surpassed the level of care we have experienced from any kind of medical professionals anywhere.
Some examples of what NEPS has done for us:
– Visited our home and kids' schools on a weekly basis for services.
– Met our kids out and about town on community outings, getting them accustomed to interacting with unfamiliar people in the public.
– Strategized prior to and attended school meetings, serving as both advocates and as effective educators of school staff about key considerations/strategies for students with S.M.
– Helped us identify resources, realistic expectations, and strategies for positively working with our S.M. kids; and importantly, normalized selective mutism for us.
There is no doubt that NEPS' services are one of the main reasons our kids are mostly / fully verbal and have shown such tremendous growth over the last several years.
---
Testimonial from 2016: Our experience with Annie and her team at New England Pediatric Services has been nothing short of a miracle. Our son has struggled with SM for 5 years and we've struggled just as much to find anyone that has any expertise in helping him. The first time I talked to Annie, I couldn't believe what I was hearing. She was the first person we've ever talked to that truly had an idea as to what our son was going through and how to help him. We had our team meeting with our son's school this week and Annie drove 2 hours, both ways, to be there with us. We cannot thank her enough for her devotion to helping our child. There are no words to describe how relieved and grateful my wife and I are that we found New England Pediatric Services. We feel hopeful about the future for the first time since our son was diagnosed.